Best food stalls in Camden Town, London
Ah, Camden Town. Home to all the teenagers, tourists and punks, Camden definitely has a unique aesthetic that everybody seems to love (including me). And we all know the one thing Camden is renowned for; their bomb food stalls.  I mean, really, what's Camden Market without it's  small busy food stalls? A market with no lingering smell of delicious takeaway dishes, that's what. So without further ado, here are a few of my personal favourites!
MAGIC FALAFEL
Made from 100% chickpeas, their falafel are entirely vegan and gluten free.  You can easily pop them in pitta or on salad, so in other words it's heaven in a takeaway bowl. The five star falafel is made fresh to order, and the staff are as nice as they are quick (and they're VERY quick with orders). It was around my third time visiting Camden when I decided to check out Magic Falafel with my sister, and I mainly wanted to go because I liked the way their shop sign looked. The line was pretty long so we started to have second thoughts, but the aroma made us want to suck it up and wait. It was finally time for us to order and I got Falafel balls with tahini for £4.5 and my sister ordered a salad box for £5. Let me just tell you now, it was worth the wait. The Falafel balls were delicious, and my sisters salad was fresh and crisp (i had a nibble of it). I unfortunately haven't gotten the chance to visit there again yet, but i definitely will! Find the details here
2. Camden Juice
Okay, is this actual food? No. But am I still gonna add it to the list? Of course I am. That's because I feel like Camden Juice is too underrated, and if nobody's going to give it the credit it deserves, I will. Their freshly squeezed orange juice is so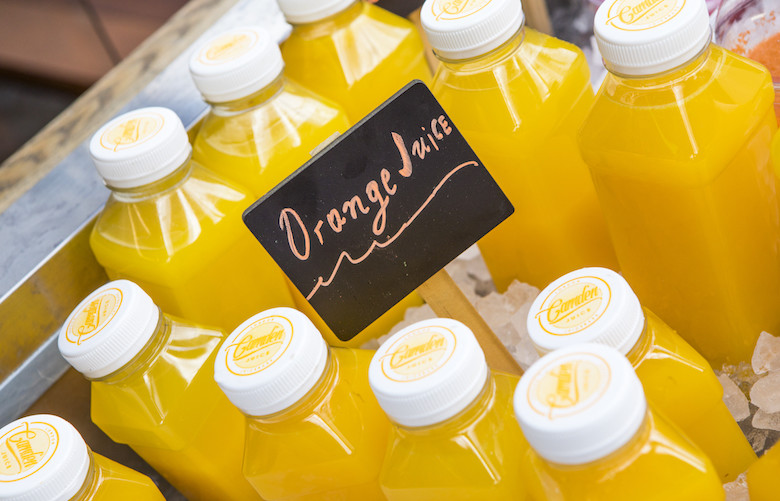 refreshing, and is a healthier alternative to the packaged OJ at big grocery stores that have necessary amounts of extra sugar.  They're jam packed with vitamin C, and are perfect for a quick gulp on the go. They also come in sizes small to medium, perfect for how thirsty or not you are! Downside is Camden Juice is  pretty hard to find online, since they don't have a website or social media accounts. Upside is they are on the official Camden website, which you can click on here for, and they have a hashtag on Instagram, #CamdenJuice. Another upside is they're near the front entrance of the market, and are pretty easy to spot.
3. Bill or Beak
4. Makatcha 
Makatcha make their curries with coconut cream, lemon grass, kaffir limes leaves and more. The traditional rendang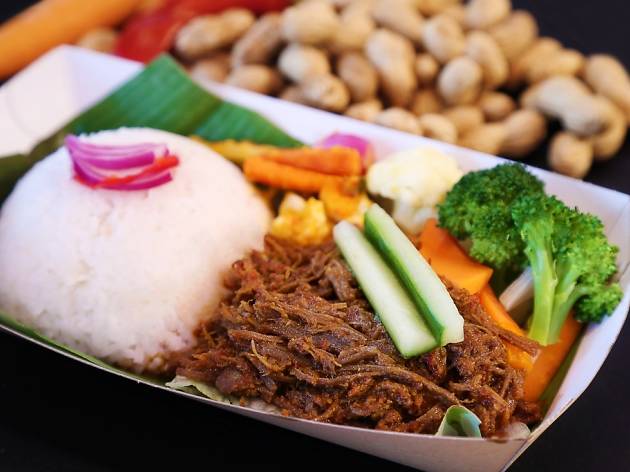 made Indonesian style is a crowd favourite, with a 4.6 star rating and 100 star flavours. The thing that i'm most impressed by though is the vegan option. The Vegan Rendang will blow you away, even if you're a meat lover! They serve the best curry ever, and for £8 I honestly think it's worth it. The staff are so friendly, and service is speedy. It's a ten out of ten for me.
5. Oli Baba's 
Halloumi fries. I repeat, halloumi fries. Okay, so this is a more controversial food stall, because cheese chips isn't necessarily everyone's favourite. However, if you're one in favour for questionable food combos and unique flavours, this
is the right place for you. Oli Baba caused a foodie riot when they launched their deep fried cheese strips in 2015 and since they've continued to impress hungry punters everywhere. The Middle Eastern restaurant turned a simple concept of deep fried cheese into a trending fast food meal, and even I'm scratching my head as to how. The fries can come with great toppings that add a kick of flavour, such as pomegranate seeds and yogurt sauce. Honestly speaking, I'm not a sucker for cheese and was hesitant on trying it. It was good, not great, just good, but I must say the toppings really helped. But regardless I'm adding this onto the list because everyone else seemed to love it, and I'm not here to deprive you of halloumi fries that everyone enjoyed. I'm here with an open mind! ( I would still get the falafel though.) Prices are around £6 for one, and you can access their website by clicking here